---
The reality of diamond comes of age
As the hardest material known to man, diamond finds a variety of uses in industrial applications due to its wear resistant properties. However, the ability to coat parts with the beneficial properties that diamond provides has, until now, eluded scientists for many years.
Synthetic Diamond Film (SDF 24/6) changes all that by enabling tools and components to be coated with a precision, diamond-like carbon structure to offer the ultimate in diamond-hard surfaces with ultra-low friction properties.
---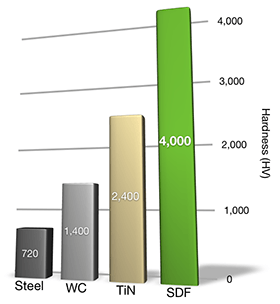 Extreme levels of hardness
It is generally accepted that increasing the hardness of the substrate material provides improvements to its wear resistant properties.
Synthetic Diamond Film (SDF 24/6) can significantly increase the surface hardness of a tool or component taking the surface of a typical 60 HRC hardened tool steel (740 HV) to a micro-hardness level up to 4,000 HV - a magnitude some five times the original substrate hardness.
---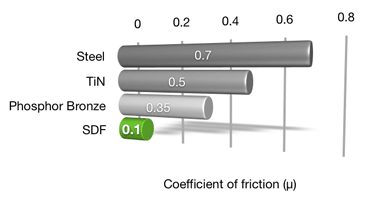 It's not all about hardness, friction counts as well
Hardness alone is not the only factor determining wear resistant properties, with reduced friction playing a vital role in improving tool and component lifetimes. Synthetic Diamond Film not only provides significant levels of hardness, but results in an exceptionally low coefficient of friction of <0.1µ that reduces drag, minimises torque and lowers operational temperatures. Such properties facilitates the possibility to reduce existing lubrication methods yet still provides smooth, lubricious, trouble free running.
---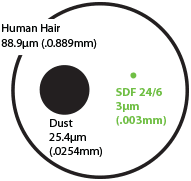 Precision where it matters
Synthetic Diamond Film is deposited to a smooth, controlled and precise thickness of 2–3µm that conforms to both the substrate contours and its surface finish. A polished surface will remain intact, but has the added advantage of having an ultra-hard scratch resistant film to protect and maintain its finish.
---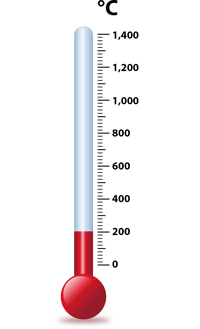 It's not just a cool coating, but a cool process as well
With a deposition temperature of less that 200°C, Synthetic Diamond Film (SDF 24/6) can be deposited onto a wide range of temperature sensitive materials, such as 01, D2 without risk of thermal distortion, loss of substrate hardness, or changes to the metallurgical or heat treatment process that the tool or component may have been subjected to.
---
Bond... Ionic Bond!
Synthetic Diamond Film (SDF 24/6) forms an ionic bond with the substrate material in which the atoms of both coating and component are bound by attraction. The resulting factor provides an extremely well adhered coating that remains intact under high loaded/high stress applications.
---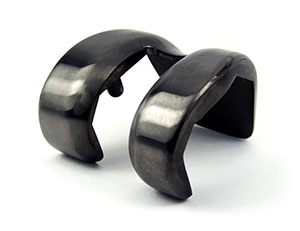 Chemically resistant surfaces
With its carbon structure, SDF 24/6 provides an inert, corrosion resistant barrier that makes it ideally suited for use on both industrial components and medical devices such implants, instruments and appliances that require biocompatibility and undergo autoclave sterilization.
---
Protection from tribological forces
With its ultra-high hardness, low friction and chemically inert properties, SDF 24/6 provides a universal solution to a plethora of tool and components exposed to a variety of wear issues relating to adhesive wear, abrasive wear, scuffing, fretting fatigue and corrosive attack that offers unsurpassed levels of performance.
---
What next?
Synthetic Diamond Film (SDF 24/6) leads the way in thin-film coating technology, offering significant performance enhancements to tool and components that only diamond can provide. Contact our engineers to discuss your potential requirements and see how diamond truly is an engineer's best friend.
Back to top ▲