---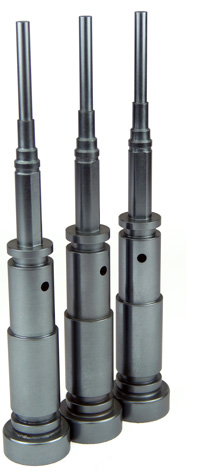 An industry under pressure
The plastic injection industry faces a myriad of unprecedented challenges that continues to put immense pressures on the need to meet, and sometimes exceed customer expectations. Whilst at the same time calling for constant improvements to the production and financial performance of the business.
Such challenges, coupled with competitive forces from both home and the low-cost overseas economies, certainly calls for the need to achieve maximum efficiencies at every level of the business.
But throughout these challenging times have you ever stopped to really think what it takes to become a market leader?
How do they achieve the best returns on investment within the industry?
How do they achieve the fastest cycle times with the lowest levels of rejects?
How do they maximise productivity?
How do they consistently achieve such high levels of quality?
How do they stay ahead of the competition and maintain their market share?
---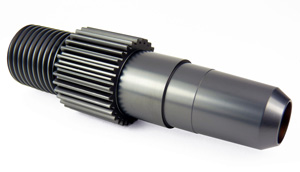 It's all in the ethos
By adopting a philosophy and maintaining the drive to seek and push forward continuous improvements, whilst at the same time ensuring that they operate with the industry's latest technological advances. In a market where only the fittest will survive, the need to adopt a market leading attitude becomes even more paramount.
Are you a market follower? Or do you intend to adopt a market leading approach?
---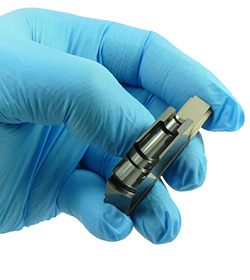 A new approach
Refmet Ceramics Ltd, a relatively new name within the plastic injection moulding industry but one with a long standing history in the field of materials technology, has consistently worked at the leading edge of the surface engineering discipline. Having developed performance enhancing coatings for a wide range of industry specific applications, our customers remain at the forefront of their manufacturing capabilities.
Recent technological breakthroughs has led to the introduction of a unique range of surface treatments based on Solid Lubrication Film, Advanced Composite Structure and Synthetic Diamond Film that has not only re-written the industry standard for thin film coating technologies, but one that already proven to offer a host of performance enhancing properties to enable plastic injection mould tools to operate to new and unfound levels of productivity.
---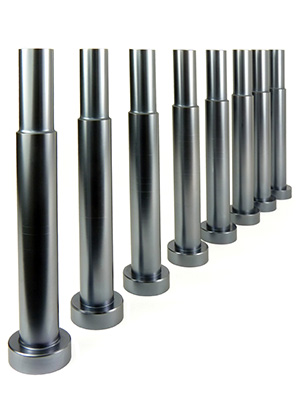 The costs of achieving the industry average
In an industry where tooling is not only a significant capital expense, but one of paramount importance, the need to ensure that every tool operates at the pinnacle of performance becomes a critical factor towards maximising business efficiencies.
The implications of an underperforming mould or tool has a multitude of impacts that are spread across the spectrum of productivity, delivery and product quality. Not to mention both the cost and time consuming demands they place upon the toolroom when things go wrong.
Even a seized ejector pin or blade can have a serious effect on the profitability of a job when maintenance costs and time are taken into consideration.
Ensuring a tool runs trouble free is only one part of the equation. However, consider the benefits of a coating that not only assists in reducing tool maintenance costs but one that results in reduced friction that facilitates the possibility of ejecting the moulded part earlier.
Think of the benefits of a reduction in moulding cycle times, the increase in productivity and increase in profitability and then you are beginning to think like a real market leader.
---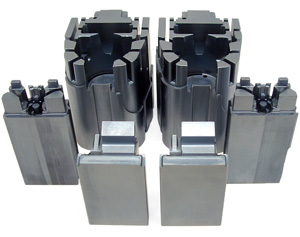 Endless tooling applications
So how can Refmet Ceramics range of coatings make a difference in your tooling application?
Not only do our coatings make a difference, they have made all the difference in some applications that were previously impossible to mould on a production basis.
The potential applications are endless, ranging from dies and moulds through to cores, unscrewing cores, ejector pins and ejector sleeves, with the results speaking for themselves.
---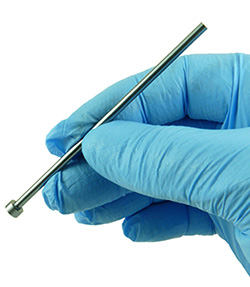 Endless improvements
In one application, a reduction in cycle time from 14 seconds down to 8 seconds was achieved saving a significant 43% off the moulding cycle.
Ejection pins in a multi-cavity mould were often seizing or breaking on a tool running 24/7 resulting in lost production and the need for regular and costly maintenance. The change to ACS 24/7/74 coated pins has seen continuous production over three years with not one pin breakage or seizure.
Another application has seen a 20% reduction in injection pressures, resulting in the elimination of flash and the need to manually trim each part.
And in an application moulding caps for detergent bottles it was a regular occurrence to find the threads of the caps tearing during the unscrewing of the core. And now with coated cores the end result is…perfect caps each and every time.
---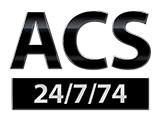 Improve your thread capabilities
Check out the beneficial properties of Advanced Composite Structure at our coatings section by clicking here and see how Refmet Ceramics can assist in overcoming your thread component issues.
Back to top ▲